To help you plan your visit to the Arts Learning Festival, we've created an easy-to-use event calendar.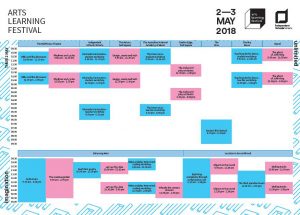 The calendar shows which events are occurring on certain days at different times, and various venues.
You can click on each event to take you through to its program page. This is where you can find out more about the event, including subjects and year levels covered, learning outcomes and booking instructions.
The calendar will be updated as new  events are added to the festival program, and can be downloaded – just click on the calendar image above!