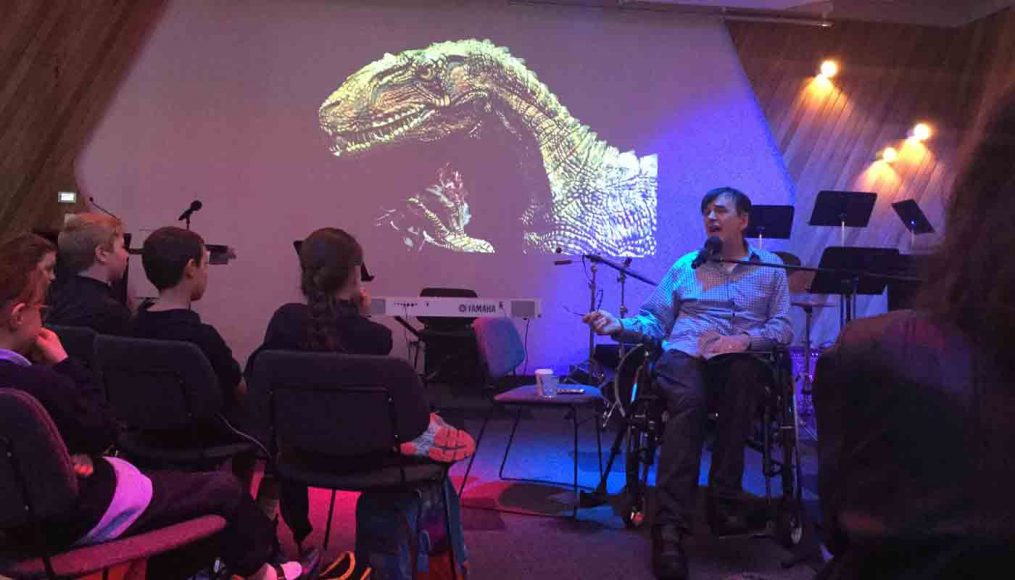 Presented by Tim Ferguson, Dave Willis and Geoff Willis
Billie and the dinosaurs
Back
Suitable for
Year 1, Year 2, Year 3, Year 4, Year 5, Year 6, Year Prep
Subject areas
Music, Sciences, Social sciences
After its success at our 2017 festival, Tim Ferguson's Billie and the Dinosaurs returns in 2019. The work is a musical journey through a narrated orchestral performance, where young learners consider Australia's unique palaeontology while meeting the hero of the story, Billie. The performance is in the style of Prokofiev's Peter and The Wolf.
Billie lives in regional Australia. When faced by bullies at school, she runs away and uncovers an ancient world where her new friends help her on an adventure to learn about friendship and resilience.
The performance will provide insights into the creative development of the work, looking at the ideas and musical styles that help tell Billie's story. There will also be a performance by a student orchestra and other activities.
Tim has created Billie and the Dinosaurs along with Dave Willis and Geoff Willis. A Billie and the Dinosaurs educational package will be available to schools in the lead up to festival.
This event will also be part of our community day. Details will be released soon.
Learning Outcomes:
students will consider the importance of key concepts, such as continuity and change, empathy and appreciating different perspectives
they will also gain an understanding of how music can tell stories with the instruments becoming the main characters.
Interested in attending?
Download PDF for full overview and curriculum benefits
Download event
Sessions
Thu 2 May 2019
10:00 am - 11:30 am
12:30 pm - 2:00 pm
Fri 3 May 2019
10:00 am - 11:30 am
12:30 pm - 2:00 pm
Venue
The Malthouse Theatre
Tickets
$10 per student
The Malthouse Theatre
113 Sturt Street, Southbank
Transport
The Malthouse Theatre is at 113 Sturt Street, Southbank.
The No. 1 South Melbourne tram goes right past the venue – get off at Stop 18. You can also catch any tram down St Kilda Road — jump off at Grant Street, Stop 17 and take a three -minute walk.
The nearest train station Flinders Street Station, and it's a 12-minute walk to the Malthouse.
There's limited street parking, and nearby car parks in the arts precinct.