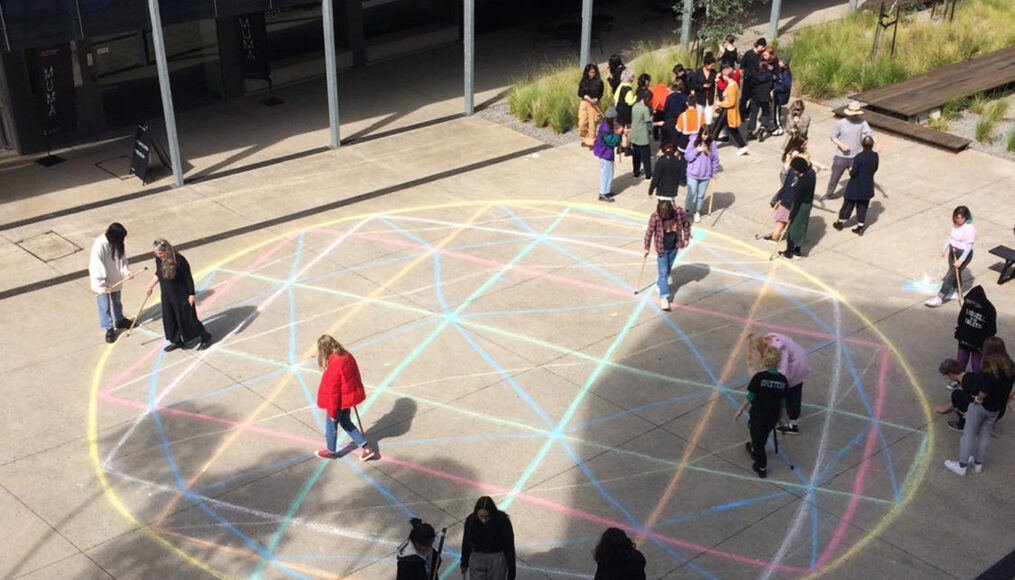 Kerrie Poliness & Monash University Museum of Art
Collaborative Abstract Drawing
Back
Suitable for
Year 7, Year 8, Year 9, Year 10
Subject areas
The Arts, Science & Technology
Join contemporary artist Kerrie Poliness for an interactive drawing workshop inspired by the formal and poetic possibilities of line, pattern and abstraction.
Kerrie will introduce students to her playful, DIY approach to creating large-scale instructional drawings through an inclusive process that encompasses collaboration, geometry and gesture.
Students will hear from Kerrie about her practice and the possibilities for creating unique (socially distanced) outdoor, large-scale drawings based on geometry and a common set of instructions.
Each workshop includes a presentation on Kerrie's work, followed by an on-site collaborative instructional drawing activity.
Kerrie Poliness is a Melbourne-based contemporary artist who is well known for her abstract instructional drawings inspired by conceptual art. She has been exhibiting and developing commissioned projects since the 1980s.
Her works are held in collections across Australia, including Monash University Museum of Art; National Gallery of Australia, Canberra; Museum of Contemporary Art, Sydney; National Gallery of Victoria, Melbourne; Art Gallery of Western Australia, Perth; and QAGOMA (Queensland Art Gallery and Gallery of Modern Art), Brisbane.

Sessions
Thu 29 July 2021
10:00 am - 12:00 pm
Session Information
1 workshop still available. This will be delivered in person at La Trobe University, Bendigo.
Cost
$10 per student (inc. GST)
Register your class
Please contact us to find out more and register your class.