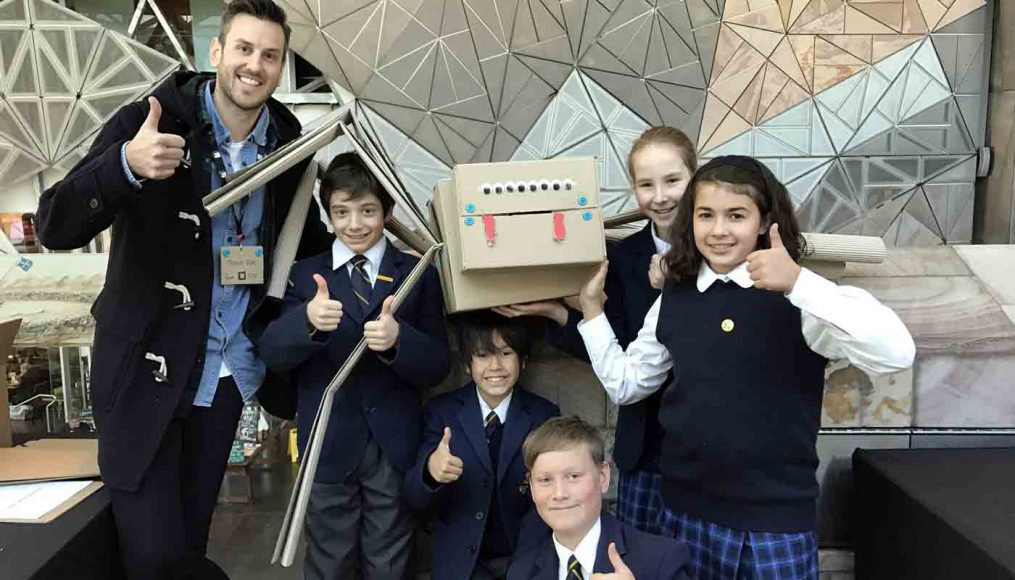 Presented by Trent Ray and Melinda Hargreaves
Design, Create and Technology – Where We Are
Back
Suitable for
Year 5, Year 6, Year 7, Year 8
Subject areas
Sciences, Sustainability, Technology, Visual arts
In this workshop, students will investigate species of fauna that are currently facing challenges in specific local areas throughout the modern environment of Melbourne and Victoria. Through focussed research of indigenous fauna, students will discover some of its unique characteristics that may need some support to ensure survival.
Students will generate ideas and explore possible solutions of how a proposed technological intervention may be able to change outcomes for a more sustainable future. They will create a sequenced work plan, and working in small groups, will use art materials, components and tools to build a model. This will demonstrate how a proposed adaptation of a chosen species of indigenous fauna in the modern environment may continue to survive through this imagined technology intervention.
During the workshop, students will consider how the growth and survival of living things are affected by physical conditions of their environment. They will also experience the benefits of collaborative practice and building social learning capacities.
On completion of the workshop, the finished models will be displayed to share the ideas and innovative thinking generated on this contemporary real world issue.
Learning Outcomes:
collaboration
ICT skills
ICT for learning
innovation
real-world problem solving
targeted specific communication
content knowledge for transference learning, social learning, empathy and curriculum targeted.
Interested in attending?
Download PDF for full overview and curriculum benefits
Download event
Sessions
Thu 2 May 2019
9:30 am - 11:30 am
12:30 pm - 2:30 pm
Fri 3 May 2019
9:30 am - 11:30 am
12:30 pm - 2:30 pm
Venue
The Atrium, Federation Square
Tickets
$10 per student
The Atrium, Federation Square
Swanston Street, Melbourne
Transport
The Atrium is part of Federation Square, located on the corner of Swanston and Flinders streets. Main access is from Flinders Street.
It's across the road from Flinders Street Station, and is also served by city trams routes that run down Flinders and Swanston streets, and several bus routes.
There's also parking at Federation Square, the arts precinct, and city car parks.
Coach drop-offs can be made at the Russell Street extension, and along Flinders Street. The nearest coach parking is along St Kilda Road, opposite the Arts Centre and the NGV.