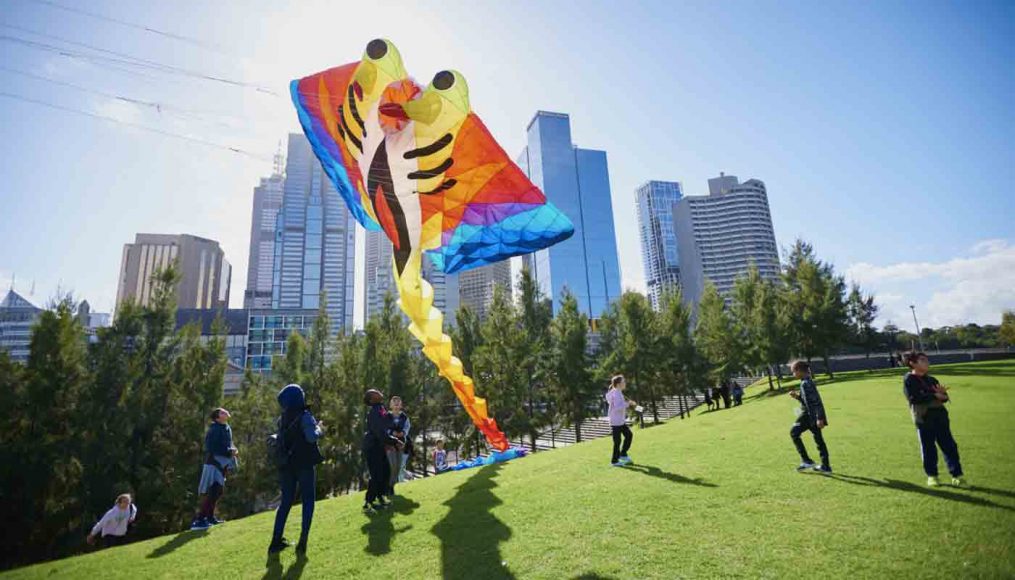 Presented by Kites 4 Kids
Let's go fly a kite
Back
Suitable for
Year 3, Year 4, Year 5, Year 6
Subject areas
Sciences, Visual arts
Kites throughout history have been used for a wide variety of scientific purposes, including experiments with electricity, meteorology and human flight. Many cultures also enjoy the color and excitement of kite flying for festivals and other celebrations.
Kites 4 Kids will deliver kite-making workshops and spectacular displays of giant flying kites over Birrarung Marr, near Federation Square. The program combines the fun of kite-making and flying with creativity and the basic principles of flight. Students will construct a diamond-shaped kite, design and create the decorative features, and then have the chance to learn to fly their own creation in the skies of Melbourne.
Kites 4 Kids was a big hit at our 2017 festival, and is expected to be popular again. 'Kite flying is a great way of expressing yourself,' says Jo Baker, who runs the sessions.
'Designing a kite or even just the graphics on a kite is a way of putting your art in the sky for everyone to see and enjoy. The sky is a blank canvas. You can fill it with so much colour and fun.'
This event will also be part of our Community Day on Saturday 4 May 2019.
Learning Outcomes:
students can explore how objects can move through air by constructing and flying a diamond-shaped kite
students can also consider how art elements and visual conventions, such as line, shape and colour can be applied to decorate their kite.
Interested in attending?
Download PDF for full overview and curriculum benefits
Download event
Sessions
Thu 2 May 2019
10:00 am - 11:30 am
12:30 pm - 2:00 pm
Fri 3 May 2019
10:00 am - 11:30 am
12:30 pm - 2:00 pm
Venue
Upper Terrace, Birrarung Marr
Tickets
$10 per student
Upper Terrace, Birrarung Marr
Upper Terrace, Birrarung Marr
Transport
Birrarung Marr is centrally located between the Central Business District and the Yarra, next to Federation Square.
It's a short journey from Flinders Street Station, and is also served by city trams routes that run down Flinders and Swanston streets, and several bus routes.
There's also nearby parking at Federation Square, the arts precinct, and city car parks.
Coach drop-offs can be made at the Russell Street extension, and along Flinders Street. The nearest coach parking is along St Kilda Road, opposite the Arts Centre and the NGV.