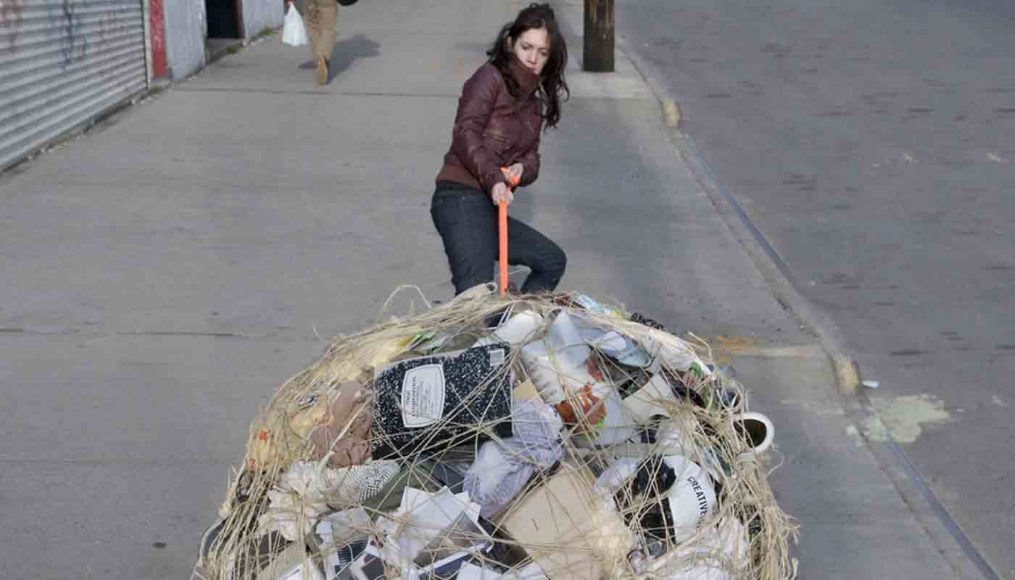 Presented by Mary Mattingly
Objects in the Round
Back
Suitable for
Year 9, Year 10, Year 11, Year 12
Subject areas
Culture & ethics, Sustainability, Thinking, Visual arts
This workshop will bring to Melbourne for the first time internationally renowned New York artist, Mary Mattingly.
Mattingly combines her visual art practice with the environment and education, working with everyday objects we consume, producing large scale public art projects.
Objects in the Round involves the creation of a collaborative artwork. Using personal objects as well as materials collected in Melbourne, participants will make an expansive landscape in miniature, and combine it with storytelling about each object, through techniques based on theatre in the round.
Objects in the Round will provide students with an opportunity to examine questions about daily rhythms dependent on objects, and habits of purchase, use and discard. What is more permanent, what endures, and for how long, and then what happens? The workshop will also explore how the concept of theatre in the round can be relevant to our viewing of the landscape through this lens, and how we are actors in it.
Mary Mattingly's work has been featured in prestigious art festivals, galleries and museums around the world, and she has also collaborated with New York's Museum of Modern Art's Teen program.
Her recent works have explored the questions about food production and sustainability, Swale, a floating food forest providing fresh produce to the public, and the Waterpod project, which created a self-sufficient habitat on a barge in New York attracting 200,000 visitors.
This event will also be part of our community day. Details will be released soon.
Learning Outcomes:
students can learn about the role and practices of artists in society by working with Mary on this collaborative project
observe and participate in the development of a creative process through investigation and production of a large scale artwork
consider the integral role that the arts can play in people's lives by communicating ideas, beliefs and values
engage with the idea that art can be a platform for positive change at personal, local, national and global levels that can build healthy social, economic and ecological systems.
Interested in attending?
Download PDF for full overview and curriculum benefits
Download event
Sessions
Thu 2 May 2019
9:30 am - 11:30 am
12:30 pm - 2:30 pm
Fri 3 May 2019
9:30 am - 11:30 am
12:30 pm - 2:30 pm
Venue
Venue details coming soon
Tickets
$25 per student
Venue details coming soon