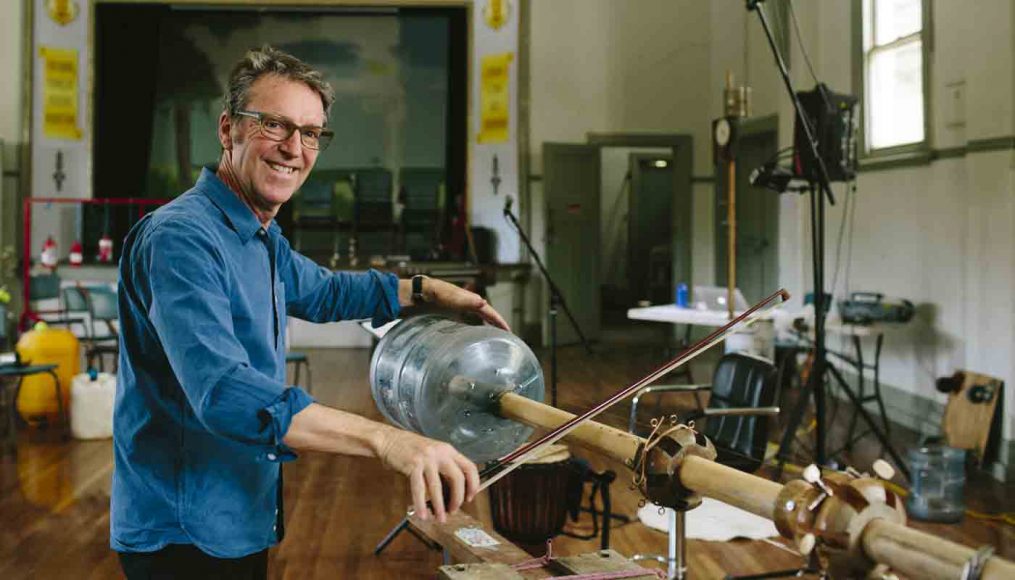 Presented by Graeme Leak
The make and play orchestra
Back
Suitable for
Year 5, Year 6, Year 7, Year 8, Year 9, Year 10, Year 11, Year 12
Subject areas
Music, Performing arts, Sustainability, Technology, Personal and social capability
The Make and Play Orchestra is an intergenerational, open plan musical experience devised and directed by music maker and composer, Graeme Leak. This event will focus on bringing together a community of players, including students, through the union of traditional orchestral instruments with the unique, bespoke and home-made string and percussion instruments created during the festival's Make and Play Instrument Making Workshops by the Song Room.
Graeme recently ran a community orchestra program for the opening of the Gargarro Soundshell in Girgarre, near Shepparton. The small town has been rebuilding after setbacks, and Graeme's brief was to transform Girgarre with sound and music.
His players included two 82-years-olds, a Year 5 student and lots of local farmers and townsfolk, most of whom had never played any music before. They loved the experience so much that they have volunteered to come and join the Make and Play orchestra when they perform in our festival.
Students and teachers participating in the must attend a minimum of two rehearsals, before joining the public concert at Deakin Edge in the afternoon of 4 May 2019.
Learning Outcomes:
following a conductor, keeping time in an ensemble, listening, watching, trusting, counting beats, improvising, tempo and balancing working with others
recognise rhythmic, melodic and harmonic patterns and beat groupings
consider cultural and social contexts of music
develop reflective practice
appreciate diverse perspectives.
Interested in attending?
Download PDF for full overview and curriculum benefits
Download event
Sessions
Thu 2 May 2019
11:30 am - 1:00 pm
2:30 pm - 4:00 pm
Fri 3 May 2019
11:30 am - 1:00 pm
2:30 pm - 4:00 pm
Sat 4 May 2019
2:00 pm - 4:00 pm
Session Information
The make and play performance will take place on Saturday 4 May, from 5:00 pm to 6:00 pm.
Venue
Deakin Edge, Federation Square
Tickets
It is free for Victorian students and teachers to join and play in the Make and Play Orchestra provided they commit to attending at least two rehearsals.
Deakin Edge, Federation Square
Swanston Street and Flinders Lane, Melbourne
Transport
Deakin Edge is part of Federation Square, located on the corner of Swanston and Flinders streets. Main access is from Flinders Street.
It's across the road from Flinders Street Station, and is also served by city trams routes that run down Flinders and Swanston streets, and several bus routes.
There's also parking at Federation Square, the arts precinct, and city car parks.
Coach drop-offs can be made at the Russell Street extension, and along Flinders Street. The nearest coach parking is along St Kilda Road, opposite the Arts Centre and the NGV.