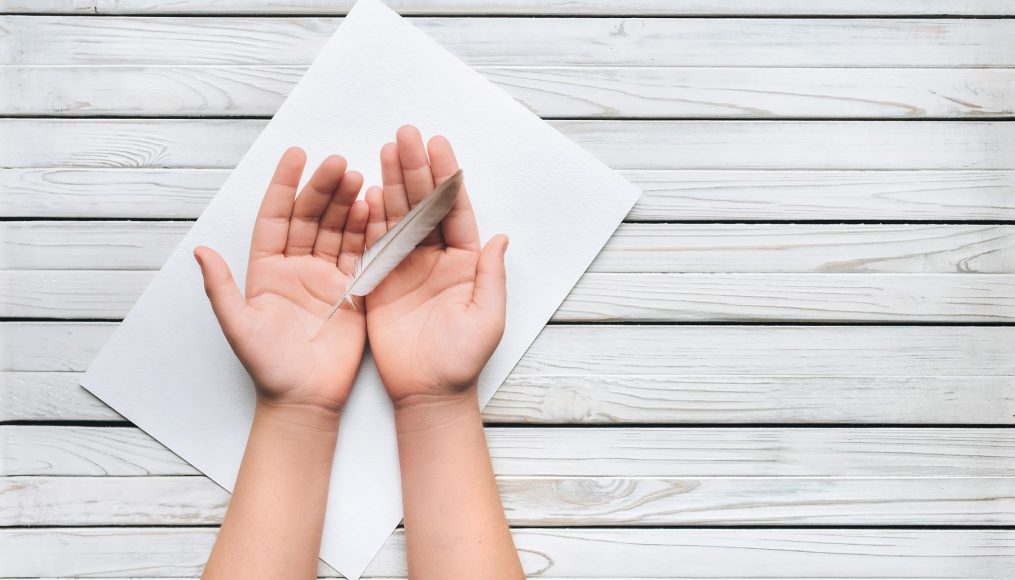 Felicity van Rensburg, Year 5, Harkaway Hills College, has won the Student Poetry Competition in the Years 5-6 section for their poem, After the Fire.
This is what the judges said:
An evocative rollercoaster ride, the exuberant lines overflow with carefully crafted imagery of beauty, devastation and rebirth. It takes the breath away.
You can read Felicity's poem below, along with the students awarded honourable mentions in the category for their outstanding work.
After the Fire
By Felicity van Rensburg
Glorious mountains, luscious bush,
Ancient gumtrees, ferns and florals,
Sounds of joyful birds singing with delight,
Nature pristine, reflecting the Creator's glory. 
Majestic, towering trees, cover the hilltops,
Patriarchs of the forest, 
Emerald green and full of life,
In the breeze, their delicate leaves descend. 
But now, the air is scorching,
And the wind is howling like a wolf. 
Orange flickering light,
dangerous to nature.
It follows the wind's path,
And catches contagious flames,
That spread across the dry, thin grass.
Soon, smoke rises and embers spurt into the air. 
Raging with fury, vicious and violent. 
Starving, searching for fuel. 
Snaking its way from limb to limb,
Twisting and turning. 
Journeying through the paperbark forest,
Spoiling nature's beauty.
Devouring all things in sight. 
And yet, its hunger, unsatisfied. 
Blazing flames, scorching heat,
Enlarges to a towering size, 
Choking smoke covers the sky.
And now, spotting its target, 
It soars down the mountain.
The cruel, savage, blaze,
Descends on houses below,
Charging towards them.
Devouring homes in one swoosh,
Covering them with a blanket of smoke.
Mantle piece memories obliterated, 
All that remains is ash and dust.  
The death of the forest stands in silence,
Cracking and crunching begins the thunder. 
Rain starts to pour,
Washing away ash and death. 
A new dawn awakes,
With a new golden sensation,
Returning to the sky, 
Smoke quietly fades away. 
Exploding through the clouds, the glow brightens, 
Fresh, clean air flows, trees breathe,
Little sprouts of green spread across the fields,
Regrowth emerges, new life beginning.
Honourable Mentions
Aaron Kwok, Year 5, Brighton Beach Primary School
The Fallen
Mia Pearce, Year 6, Christian College Geelong
Hope
Amy Schmideg, Year 5, The King David School
Too Cool for School
Zeina Abbass, Year 6, Kew Primary School
The Country
Grace Sudjono, Year 5, Harkaway Hills College
Woman in the Window
Lulu Fyffe Goodall, Year 5, Spensley Street Primary
Hope Tree
Evangeline Harris, Year 6, Ivanhoe Girls' Grammar School
Anzac Day – Landing in Gallipoli
Raquel Cruz-Huerta, Year 5, Harkaway Hills College
Stormy Day
Lucy Weisner, Year  6, Mount Scopus Memorial College
A Field of Darkness
Sophie Kuzmina, Year 6, Ivanhoe Girls' Grammar School
Beyond the Window
Romany Faulknor, Year 6, Fitzroy Community School
Home
Odette Rozsa, Year 6, Fitzroy Community School
I Used to Live Here
Evanthia Valerie Acklin, Year 5, Genezzano, FCJ College
Afraid
Vivienne Pally, Year 5, Ivanhoe Girls' Grammar School
Seasons
Lucinda Barker, Year 5, Christian College, Geelong
Hope
Stephanie Berryman, Year 5, Fitzroy Community School
Where I Used to Live
Charlotte Di Mauro, Year 6, Holy Rosary Primary School
Mother Nature
Winners in other sections
Prep-Year 2
Winter, by Adele Bilney, Year 2, Ivanhoe Girls' Grammar School
Years 3-4
Silver Lining, by Mehak Soin, Year 4, Melbourne Girls Grammar
Years 7-8
Hope, by Ravin Rathnayake, Year 8, Haileybury College Edrington
Years 9-10
Hope in a Whistle, by Haelie Roberts, Year 9, Olivet Christian College
Years 11-12
Summer Longings, by Derek Villaceran, Year 12, Lilydale High School